When I see articles discussing the best pieces for your closet, most of them seem to include items that are impractical, expensive and/or difficult-to-find good versions of. Leather jackets are common, except you can't get them wet and they're hard to clean. White button-down shirts are on every "wardrobe essentials" list out there, but most of them are see-through. And for some reason half of these types of lists include Manolo Blahniks (retailing for approximately $625).
I never understood these lists, so I mostly ignored them when I was learning how to dress. It's a good thing, since I wouldn't have known how to incorporate them into my daily life as a student or young professional, so it would've been a waste of money. That said, I do have a leather jacket but I wear it maybe ten times a year when the weather is just right for it–crisp, cloudless spring/fall days. But again we get that maybe ten days a year in the eastern U.S.
Here's my complete list of nine essentials for my wardrobe. It's what I've discovered works best for me personally. You might disagree or have other preferences, but the below is what's been working for me for years and makes up the core of my wardrobe. It's what I wear about 90% of the time.
long-sleeved silk shirts
medium wash jeans
black trousers
light coat to mid-thigh length
shift dress
structured jacket
white sneakers
black loafers
black tote
It's kind of a uniform, and allows easy mixing of pieces for work and casual wear. I basically switch out jeans for trousers when I'm dressing casually and then I'm good to go. Below is a more detailed discussion of each item.
Click the images to get through to sources and retailer sites if you want to get a closer look.
Key to style
Beyond anything else, it's most important to be comfortable in your clothes, in pieces you like and enjoy wearing. The biggest part of style is your own satisfaction with how you look. That's why there's such a wide array of different styles and people who can pull off any look. Whether you go for the wacky, colorful look of Rihanna at the 2017 Met Gala or the understated style of Sofia Coppola, the most important part is confidence and owning whatever you're wearing.
There's no point in trying to satisfy other people (beyond being acceptable for a work setting), and definitely no reason to specifically abide by what others say, especially anonymous fashion bloggers you'll never meet.
That said, your wardrobe should be appropriate for your lifestyle. You probably have school or a job, or are regularly in some other setting where you have to be covered up. And you probably don't have any control over the temperature in the public places you go to regularly (restaurants, movie theaters, the outdoors).
Here's what most of my wardrobe consists of. It serves pretty much all occasions other than very formal events. I'll rethink it if I ever start being regularly invited to royal weddings, but for now it serves my lifestyle well with working business casual job/casual hangs with friends and family. But this is what I'd get if my house burned down and I needed to start a wardrobe from scratch.
Long-sleeved silky shirts
I suggest long-sleeve shirts in a print or colorblock version. I prefer prints over solids, because I tend to wear relatively uninteresting trousers and jeans. If I wore a solid top on top of that, it'd be a little boring. And I also just like a good print! I highly encourage you to get it in a color or print that can be worn all year.
Long-sleeved shirts are preferable because you can wear them all year, they're warmer, and if it's hot you can roll up the sleeves to a half-sleeve. And if you regularly wear blazers or other jackets, it's so much better to have something between your armpits and the jacket–this way you won't need to dry clean jackets as frequently. I think sleeveless shells are a scourge on women's fashion and must be eliminated from the market.
I also suggest you pick shirts in a silky material, not a stiff cotton shirt, for several reasons:
Easy fit. Proper fit is a lot less important with flowy shirts, compared to cotton shirts. Silk shirts look fine or even cool when you wear them oversized, because they gather nicely at the waist when you tuck them in. But with oversized cotton shirts, it just looks like you're wearing an ill-fitting shirt. They bunch up all funny around the waist if you tuck in a too-big shirt.
Care. Silk shirts tend to require a little less ironing and with some good quality silk shirts, just hanging dry will be enough. (btw I machine wash my silk shirts–it's a good strong fabric, never had any problems). If you get a silky shirt in polyester, it definitely won't wrinkle. You can machine wash and hang dry, and you're good to go. Polyester shirts are indestructable.
More feminine. Silky material is inherently more feminine because it's smooth and flowy. Other than silk shirts I like to wear pretty structured clothing (jackets, trousers) so this gives me a bit of balance in my outfit.
However, this is an item I suggest with some reservation. With button-downs, you have to make sure the buttons are placed close together enough so the blouse doesn't gape at the chest. It helps if it's a little oversized, so there's no pressure placed on the button placket by the bust.
I once sat through a meeting with a well-respected federal commissioner. Sitting to her left, I could see the entire right side of her chest through the three-inch gap in her blouse, through the whole meeting. I'm still not sure if I should've said something, maybe I was a bad fellow woman for staying quiet…
But this is the reason several of my well-endowed friends say they avoid button-down blouses altogether.
Sidenote, it's totally possible for women to look put-together and professional without wearing any button downs. I do because I happen to like them, but there are plenty of options like knits and pullovers with stretch that aren't button downs.
For work, I wear silk shirts with structured trousers and a blazer or jacket. For casual wear, I wear these with jeans. I generally tuck them in. If you don't, especially with oversize pieces, it'll look like a hand me down you haven't grown into. You can wear these with basically any bottom–I do sometimes wear a skirt, too, and flowy shirts tuck under skirts very well. Same with shorts in the summer.
It's a more dressed up than a t-shirt, and can be casual or more formal with accessories or a jacket.
Shopping
Equipment is the best for silk blouses. Most of their pieces have excellent quality, and they do a good job of making sure print patterns line up across different pieces sewn together. (btw this is an easy tell for whether a patterned piece was made with care–ask anyone who sews).
But Equipment shirts are expensive, and you don't have to get them. Woven shirts in rayon or polyester have a very similar look to silk and are much cheaper. And with these a lot of them won't wrinkle at all, you can just machine wash and dry, which can be awesome. One drawback is that woven synthetic fabrics can cling to your body, but you could always wear a camisole underneath or just accept it'll cling a little.
If you do want to try Equipment, they regularly have 25% off sales so at least wait for that–their pieces don't tend to sell out that quickly. Or you can get them at a discount from places like Outnet or Saks Off 5th, or if you're into used clothes, try Thredup or Tradesy.
Here's a few I like available as of this writing:
Here's some similar options from Loft. I'd wear these. I looked at Gap and Old Navy and they don't have anything I'd wear myself.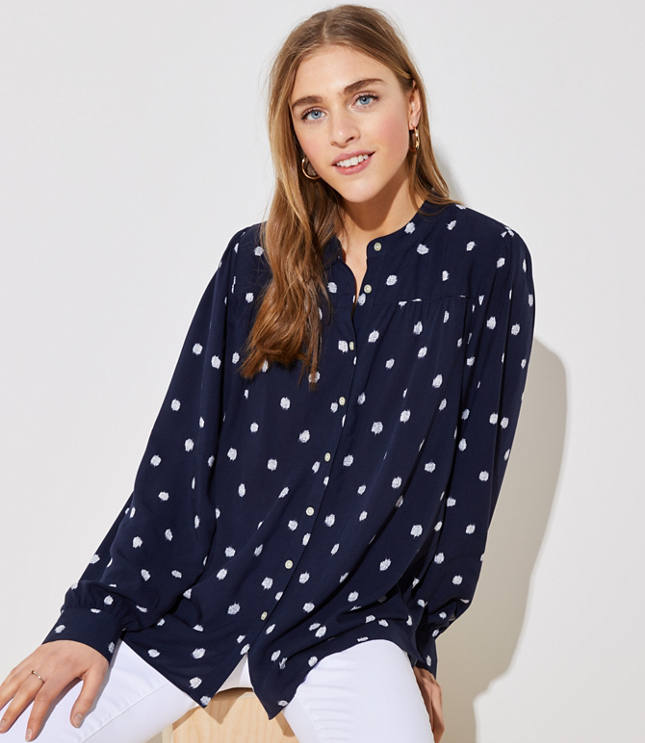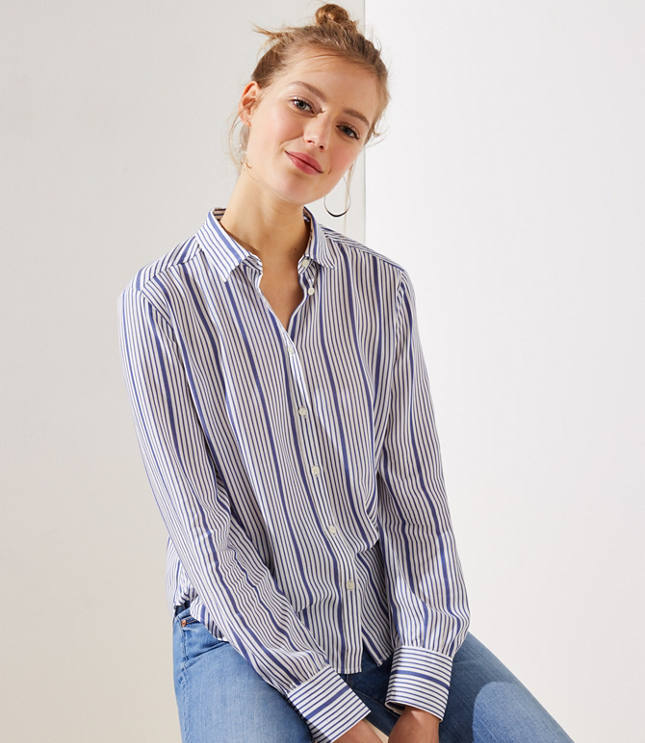 I hear the Uniqlo rayon blouses are pretty good. I've never tried them myself, but I see it has five stars from 50 reviewers on the Uniqlo website, so maybe worth a try!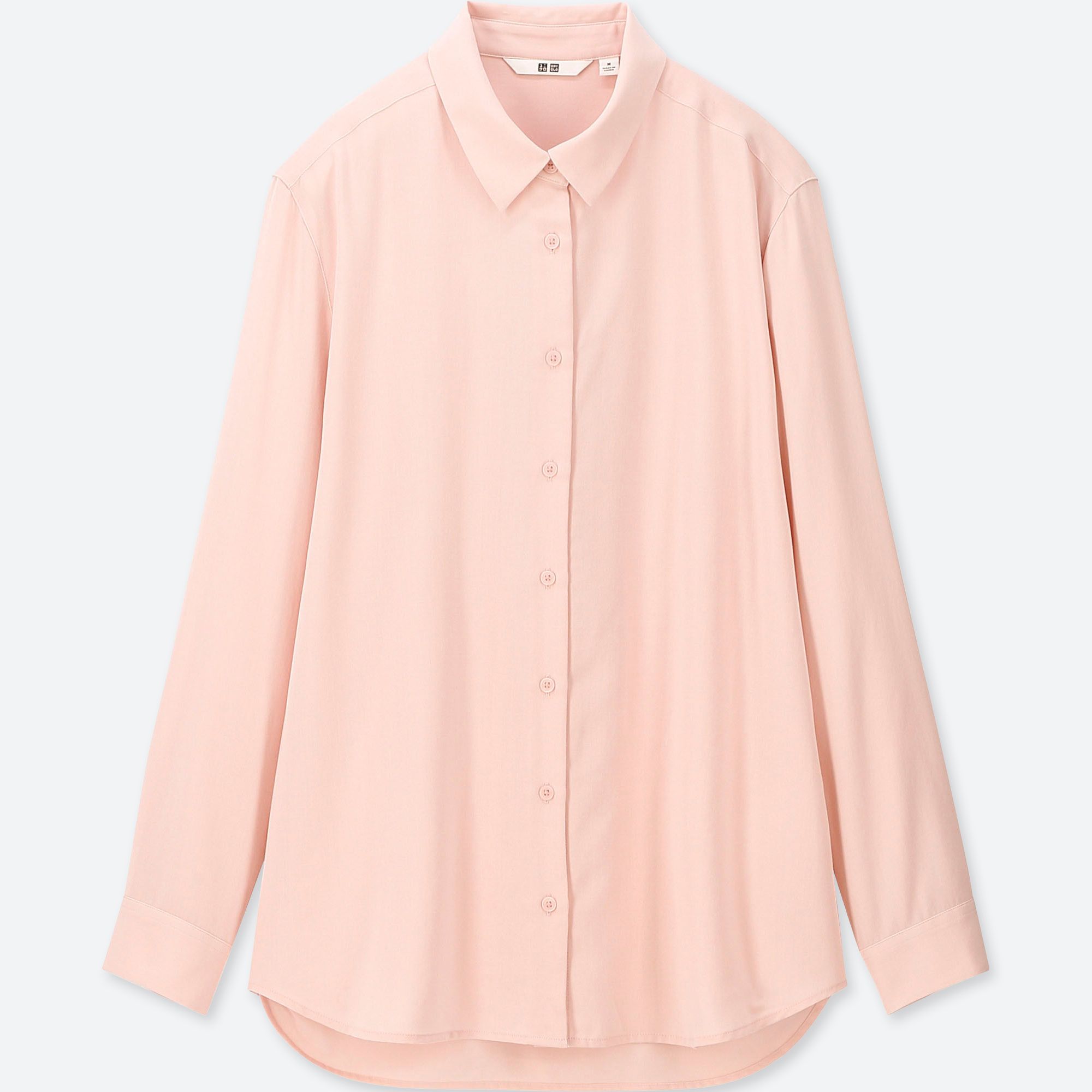 Straight-leg medium wash jeans

This is the most flexible style of jeans you can own. You can wear them all year. Light jeans are better for spring/summer, and dark jeans are more of a fall/winter color. I also feel like dark jeans make you look like you're trying too hard, like you're wearing what the fashion mags told me to. I might be reacting this way because a lot of those magazines' essentials list have dark wash jeans.
With straight-leg jeans that are the right length, you can wear them with both flats and heels, giving you a lot of flexbility. As a general rule with pants, if the legs are cut narrower you can wear them with any height of shoe. With bootcuts and flares, they only look good if you're wearing heels. You can have flare jeans at a short-enough inseam to wear flats with them, but it usually looks really dorky. And also a bit too try-hard and even dowdy, especially if the fit is not correct.
A lot of women with wide hips seem to have the notion that they need to "balance out" their hips with wide-leg pants. If you think that–where did you hear this? Probably a magazine. No one is infallible when it comes to style, and there's no law about what certain body shapes can or should wear. Also law is a human construct. If you've never tried narrow-legged jeans for whatever reason, just try it out and see what it looks and feels like. You might be surprised.
I love the look of women with wide hips who wear narrow-legged pants. It really shows off the curve of their body in a beautiful way, and I think women with wide hips should embrace them. One of my more stylish friends, who was an early adopter of skinny jeans (back in 2008, when I was still hmm about them) has child-birthing hips. She actually wore only skinny jeans from J.Crew because she thought she looked better in them. She had a cute preppy style and would often wear skinny jeans and cardigans, and she always looked great.
For myself, I prefer straight leg jeans over skinnies. Sure, they can look good if you have nice legs, but it's not really healthy to have a thick layer of skintight material on your body for 12 hours at a time. Your skin needs to breathe, let ha have air! And if you don't have very thin legs, it can easily get into sausage territory. I say that as someone with somewhat muscular legs (I exercise, do recovery, and move in particular ways to avoid gaining muscle, as I get bulky very easily). I still look decent in skinny jeans, but I just don't like material clinging to my calves all day. Straight leg jeans get you a pretty similar look without constricting your lower leg. Same with the slim boyfriend jean style that give you a similar look, but is slightly looser on the thigh as well–make sure it's not too baggy if you go for that, though.
Shopping
Are expensive jeans still a thing? I have mixed feelings about them. I've gotten them in the past, most recently from AG, though even that was two or three years ago.
The main differences I've noticed between expensive and cheap jeans are:
smoother fabric that feels more luxurious
better wash colors (a lot of cheap jeans have cheap looking or boring washes)
don't sag and stretch
The sagging is my biggest beef with cheaper jeans I've worn. I currently have a pair of jeans from Uniqlo that fit great when I first bought them, but they have since expanded a full size or two. They look pretty schlumpy so I only wear them at home as a sweatpant alternative. I haven't had that problem with more expensive jeans.
If you do go with expensive jeans, in my experience the good ones are from:
AG
Citizens of Humanity
Sevens
DL1961
I've found these to use quality thicker material and have good construction. Also I've never worn Rag & Bone jeans, but I've had friends tell me they make nice durable jeans.
The bad ones I've tried include:
Hudson: really thin fabric, and shoddy construction especially the fly
J Brand: didn't keep its shape very well
The expensive jeans are like seven times the price of ones from Old Navy, etc, though. Not sure if it's really worth that much more. Personally I do find the fabric to be more luxurious feeling (smoother, less likely to permanently stretch out) but up to you to decide if it's worth it.
Straight legged black trousers
Essential for work. You can pair them with silk blouses for both work and for slightly more formal events. You really can't go wrong with these, as long as you get the fit right. Make sure they're not too tight on the thigh or hips. I prefer ones that have a front crease because it helps create a smoother leg line and provide a little more structure, making it look crisper.
I also prefer getting a narrow leg for trousers for the same reasons as for jeans. You can wear both flats and heels with them this way, and it looks more sleek and cool.
Shopping
I have a pair of straight legged Theory trousers that I wear constantly. While Theory has had really hit or miss fabrics in the last few years, their construction and fit are still good. They're expensive so if I were on a budget I'd check out alternatives. But they can be kind of educational to try on. If I were unfamiliar with how a good pant should fit, I might even try on Theory pants, to see what good fit is like and try to find that in a cheaper pant.
If you want to give Theory a chance, definitely try different styles. They have plenty of black pant options in a narrower leg. These are not cheap. Bloomingdale's regularly has 25% sales so wait for one of their Friends and Family sales. Places like Banana Republic and Old Navy are good alternative places to start. I tried on a couple of Uniqlo trousers before and found then really itchy, but still might be worth checking out–just check the material isn't itch inducing.
Challenges in finding pants can include things like:
Bad construction, especially in the fly area. I tried on a pair of Banana Republic trousers recently. The fly area had a metal fastener at the top, above the zipper. It was installed in a weird way so that it stuck out a half inch from the rest of the pant. If I wore a sweater over that, it would have created a weird bulge at my waist. It should lie flat, not stick out like that.
Fit. Women have vastly differing body shapes compared to men, making it hard to buy ready-to-wear pants. A lot of retailers now have different pant shapes for women of various waist-to-hip ratios. I personally have a body that's easy to fit with pants, since I have relatively narrow hips. I still have a butt, though, and sometimes I'll have to size up so the pants fit the butt, then have the waist taken in. You might need to do that, where you size up so the pant is a little big in a certain area, then take it in there, so it fits in other places. It's actually not too difficult to do on your own, even without a sewing machine, as long as the material isn't too thick. There are plenty of online tutorials out there on things like taking in a waist.
Thin material. I had a literal laugh-out-loud moment when I tried on a pair of J.Crew trousers recently. The material was so thin that even though the pants weren't tight at all, I could very easily see the pockets through the front of the pant. These were light grey, so even more likely to be sheer, but still. Probably not as much of an issue with black pants, but still make sure they're not too sheer. Thin material will wear out and tear more easily so avoid!
Old Navy has a good looking pant that's pretty similar to the above Theory shapes. I've never tried them myself, though. At that price might be worth checking the store to see how it is in person.
By the way I would avoid these trousers with side stripe that keep popping up. They look like track pants, and a lot of the times the stripe doesn't align correctly on your legs to be straight, so your leg has a weird curve on it when you look from the side.
I also suggest you try high rise trousers, if you are willing! There's something about a high waistline that makes me feel safe, because it just kind of wraps you up like a blanket? Maybe it's the same effect as those weighted therapy blankets that are supposed to be calming.
The high rise gives you an extra layer of fabric on your body for more warmth in your middle. I'm always cold, and it's good to keep the core warm, especially for women.
Here's an option:
Light, mid thigh length coat
A trench or other light coat is really nice to have from spring through fall. You can layer a vest under it for more warmth on a chilly rainy day. I prefer one with a hood in case I'm caught without an umbrella, and a little more warmth.
Mine is from Moncler. I like it and it's cute, I'm sure I'll wear it for the next couple decades, but there's zero need to spend that much on a trenchcoat if you're on a budget. I think with trenchcoats and other coats in similar material, unless something is super cheap, the quality doesn't vary that drastically from budget to luxury. I'm not a big believer in the investment item idea, where you're supposed to spend a ton on an item as an investment, because quality doesn't vary that much between cheap and expensive brands.
But in case you're curious, this is the kind of coat I have except mine has a belt and is in khaki (it's from about five years ago so can't find photos, sorry)
I like that it's a bit more sleek and clean than the traditional trenches out there. It doesn't have a huge collar, double breast, or other big decorations. I like a simpler, clean silhouette for myself, but you should pick one that suits your own preferences.
Shopping
When you pick out colors, make sure it's a nice flattering shade for you. A lot of trench style coats come in khaki, but most women of color don't tend to look in khaki because it brings out yellow tones and makes you look a little dull and grey. Unless you're dark skinned, in which case you look good in any color! But I'd go for a neutral olive green or navy for most people. This way you can wear it a little deeper into fall, too, since dark colors are more appropriate when it's colder.
Make sure you get something roomy enough so you can wear it over bulky jackets and oversized sweaters.
This is a little simpler and I like that it has a hood, and a belt to cinch it in.
Here's a style similar to the Moncler coat above.
Structured shift dress
I have a couple of shifts and other dresses in sleek styles. They're good for both work and somewhat formal things like weddings and fancy dates. You can throw a blazer on top for work or at fancier events where it's colder. It's awesome when you're commuting in the summer, just keep a blazer/cardigan on your chair at your office and you can try to avoid sweating.
I'd focus on:
Fit. Make sure it's sufficiently loose so it's not bunched at the hip. That would ruin the sleeker look shifts can provide, and also be uncomfortable. Better to have a size too big than too small with these, shifts tend to look okay when slightly oversized.
Get a solid, darker color. It's much more versatile this way–can wear all year and also to more formal events.
A thick, sturdy fabric. If the fabric is too thin on shifts, it doesn't create the clean lines you want and can look cheap.
Sleeves. It's really hard to find sleeved shifts that aren't dowdy-looking. I did get one from Theory a few years ago that has a great jacquard print. Grab one if you ever see them!
Shopping
I have three shift type dresses from Vince that I love. Sadly Vince is going the common route of mid-level brands these days of only making too-casual clothes. Theory is very guilty of this recently. I know Vince was never a workwear brand (unlike Theory!) but it's still a bummer.
I'd still keep an eye out for Vince pieces. I still like that they have very good quality fabric and construction plus a lot of their pieces are machine-washable. They even usually have pockets! One of my favorite dresses is a simple Vince shift in a dark teal that I get compliments on every time I wear it.
Below are the kinds of shape and colors I suggest.
Structured jacket
Jackets are great. They keep you warm, and a nice structured jacket gives you a nice shape to your body without showing off every curve. Blazers work, but I like to get mine in somewhat unusual colors or fabrics. Most of us don't work in completely formal offices (if you do, just stick with dark suits) so I feel there's room for personality in your wardrobe in that case, as long as it's not too crazy.
I had a moto-style jacket from Banana Republic in a boucle fabric for a while. I wore constantly, especially because I could machine wash it. Eventually the fabric became too pilled to wear but I loved it. It was acceptable for work, too, because of the more conservative fabric. It was something like this but the boucle was on the collar, as well.
I have a couple of blazers in classic shapes, but in colors like white and magenta. Like I mentioned before, my bottoms tend to be boring (medium wash jeans, black trousers) an interesting jacket is a good way to add some interest. And I just enjoy wearing jackets. They keep me warm while still giving a bit of a shape. Structured jackets can have that good shaping effect on any body shape.
There's also something of a protective effect with structured jackets. Maybe a little like the high waisted pants I mentioned before, something about jackets make me feel a little safe and held in. Like wearing a hug. Not really, but I think this is why some women say they feel like they're wearing armor when wearing a suit.
Shopping
This is an area where I would spend a little more money if possible, especially if you're buying a blazer shape. According to my father, blazer jackets are technically the most difficult item to make, because there are many pieces and a lot of room for error. The outside fabric, internal padding, lining, and the stiff construction create many challenges in creating patterns and sewing pieces together.
Maje and Sandro, related brands from France, have great versions of blazers in conservative shapes but in fun patterns and colors. They're supposed to be mid-range but are really expensive in the US, I'm guessing because they have to deal with retailers demanding they have sales for American consumers. But again you can find them at a discount at places like The Outnet, or on deep discount even at Nordstrom or Bloomingdale's.
Rag & Bone also makes really cute jackets that are good for many occasions. I'd also wait for a sale from them.
I absolutely love white blazers. I was a little intimidated when I first got mine, but I also felt like a badass rapper when I put wore it. Even though I still just looked like a slightly hip yuppie, since I wore it with…black pants. But seriously, it goes with anything and I highly recommend!
White sneakers
Sneakers are the best shoes. They're comfortable, cover your entire foot to protect and keep warm (can wear socks with these), you can run to friends and away from attackers.
There's a big difference between fashion sneakers and ones you wear for actual exercise, although the gap is narrowing because Adidas and Nike are making some very cute sneakers that can be worn outside the gym. But make sure your sneakers are for non-athletic use, and aren't too bulky.
There is a weird dad shoe trend going on now, but I don't think most people can pull them off…maybe it's the Yeezy effect. Probably you'd have to make sure the rest of your outfit is extremely sharp and on point to pull this off. Or be an extremely attractive person. I'm capable of neither so I'll stick with regular people shoes.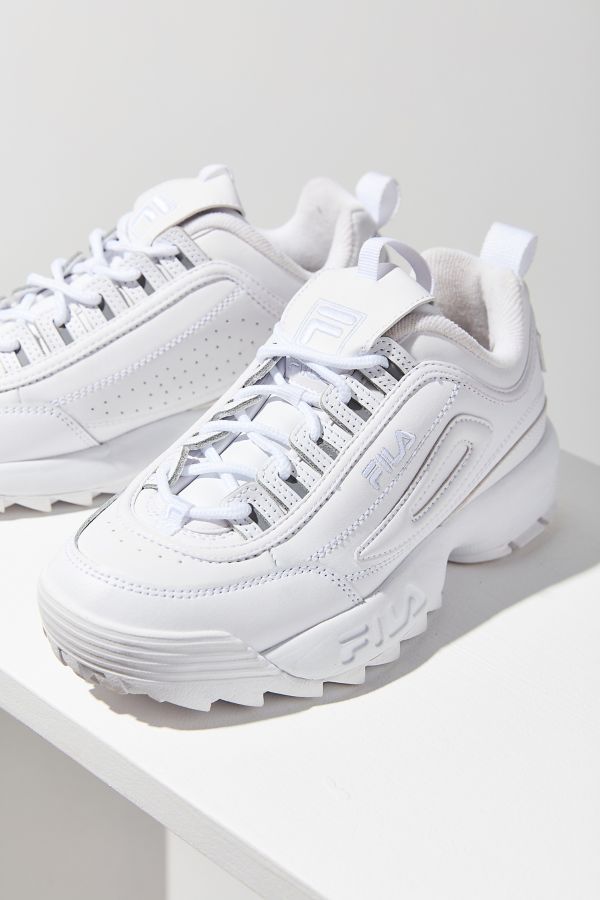 And don't be intimidated by white sneakers! they really do look very nice and, it's actually not that hard to keep leather white sneakers clean (canvas is probably another story, though I've never tried). I'd probably stick with leather, and not suede or canvas–leather is easier to clean.
This is another item you can wear with any outfit. I think they're especially good for commuting, if you wear heels at the office. Narrow leg black pants and white sneakers look awesome.
I have a white pair with a little blue accent from Puma, very similar to the below.
These are also similar.
Honestly the options for cute white leather sneakers are endless. Try them!
Black flats
Another item that goes with any outfit, good for both casual and more formal use. There are lots of options like loafers, moccasins, and ballet flats. I prefer loafer shapes to ballet flats, because they're more androgynous and read cool, and you can wear socks with them. My feet are always cold, if you can't tell yet I'm always cold 🙁
I've also found many ballet flats take a lot of breaking in, because the back can dig into your heel for a while before they become comfortable. But if you do go for them, don't get Repettos. They're overpriced and uncomfortable because they don't have much of a structure to them. Definitely try to find a shoe that has enough cushioning.
Shopping
I'd get a solid black leather loafer. Make sure they're wide enough for your feet. I currently have a pair of loafers that are still a little too narrow, even though I got them stretched out at a cobbler.
There's also some pointy-toed flats that are cool and have nice details in texture or accessories that are worth trying.
And with ballet flats, again make sure they've got real cushioning and are structured enough to withstand actual walking. These are nice:
Black nylon tote
If you only get one bag, get a black carry-all tote in a nylon with thick straps. I have the one pictured above from Marc by Marc Jacobs (RIP) that's been to five continents. It's about 10 years old, and still holding strong! I recommend nylon because it's washable. Leather bags, especially really structured ones, can get very heavy and impractical–especially since care is difficult where you can't get it wet.
It's such a basic workhorse item. You can take it to work, carry papers, get some light groceries, carry a wallet/phone/sweater, really do anything. Even a gym bag if you just want a change of clothes.
Another area where I'd invest a little money if possible. Cheap bags break down really easily, with the seams busting and fabric tearing. So this is also something I'd invest a little into–shouldn't take too much more than $100.
Shopping
Try to get an all-nylon one that you can dunk in water. Then it's okay to get caught in rain, and you can use it to protect your head. I've had to do the opposite, to use my body to protect my leather bags, and it's awkward–I'll hold my leather bag under my umbrella while my body gets wet.
Make sure to get wide straps. Narrow straps dig into your shoulders and be really uncomfortable, when you're carrying a lot of stuff in your bag.
So there you have it. A solid base for a wardrobe that I would build if I were starting all over from scratch. Again, these are only suggestions, and you might find pieces that work better for your body and style. No need to strictly abide by an internet stranger's advice for any reason. Like I said earlier, the most important thing is that you feel confident and like what you look like in your clothes. Good luck!